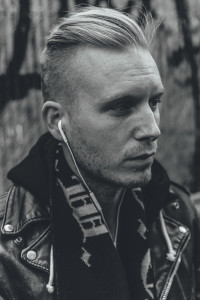 Emil's visual discourse tread in the footsteps of Memento Mori, the visual reminder of the transience of life on this earth, found in the recurring symbols of mortality and ephemeral corporal existence. A medieval Latin theory and practice of reflection on mortality, fed by occurrences in his personal life, with which he seeks to portray the somber aspects of the human condition; struggles with malice, loss, love and existence. Cathartically turning the attention towards the immortality of the soul and the afterlife.
From the paltry to the divine, through occult rites of magic and pagan mysticism, Emil's inspirational journeys are both incessant and unpredictable. Compelled by the alchemy of human cognition, he creates art in an attempt to bridge the gap between the lower and the higher consciousness, with creativity as the antidote for existential despair.
His passion for anomic art forms a esoteric gestalt hidden in the veil of his artwork.
Emil Tibell, born in Sweden, left Stockholm in 2002 to deepen the topography of his creative endeavors with a BA degree in Illustration at Parsons New School for Design. Outside the classroom he roamed the streets of New York City, resorting to self-study, where the most impactful insight and lessons were experienced. Emil is currently based as a freelance illustrator and fine artist in Brooklyn, New York.